Bohemiaflex CS is a family company with a proud tradition as a major player in sun shading and solar protection. We manufacture stylish shading solutions for domestic and commercial use and are the Number 1 provider in the Czech Republic for beer and soft drinks branded awnings and pergolas.
Established in 1993 as a private company, we supply our branded products to over 50 distributors throughout the UK and Europe . Our stable product portfolio ensures technical and service continuity.  We made our very first awning in 1990 and have developed our product range for the latest in trends and styles since then.  
We manufacture our systems in the beautiful Silesian town of Opava using top quality components sourced from established European suppliers.
Bohemiaflex's own designers and engineers are able to work with atypical solutions to meet individual requirements and the most challenging of situations. Our strategy is to offer great products at affordable prices, serving real people with real needs.
Our product range consists of:
We are specialists in atypical solutions for the most challenging of situations.
Virtual tour of our showroom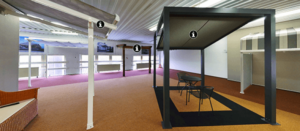 OUR PRIORITIES
High quality materials
Supervision of all phases of implementation
Energy saving
A healthy environment for life