Riviera is our most universal awning. Its aesthetic design and simple, high quality construction makes it the perfect shading companion for family homes and public spaces. Riviera is also great for shops and restaurants as well as on goalpost structures.
The awning consists of a supporting square bar, retractable arms, a fabric roller tuba, front profile and a control mechanism. The inclination of the arms can be easily adjusted in the range between 5° and 45°. When retracted, the awning can be protected by a hood. Wall or ceiling installation is possible.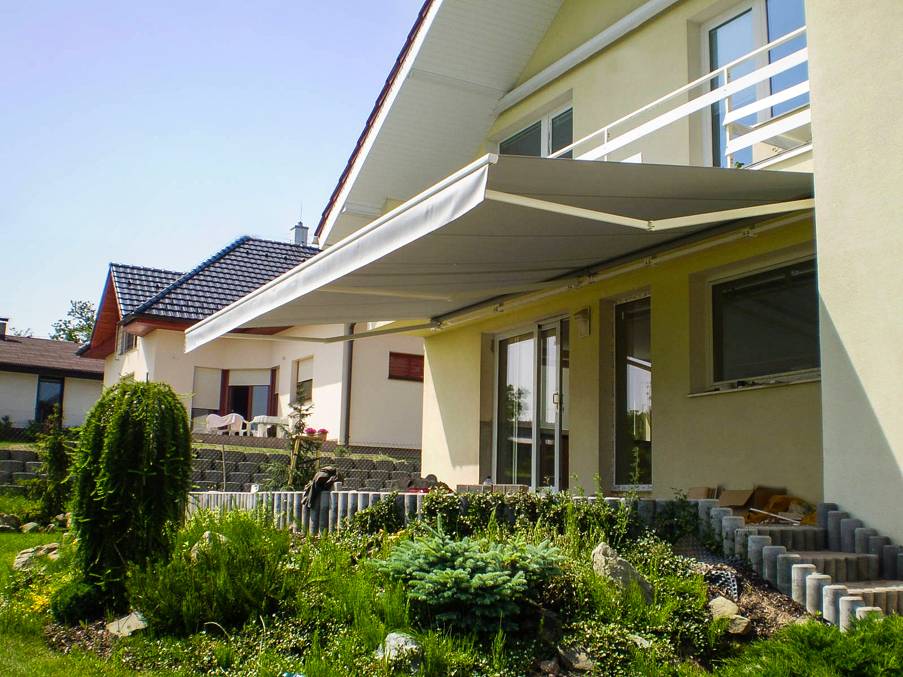 Colours
RAL 1015 ivory
RAL 7016 anthracite
RAL 9006 grey-silver
RAL 9010 white
Fabric
Acrylic
Control
Manual Crank
Electric Motor
Dimensions
MAX (width x projection): Single module 8500x4000mm
MAX (width x projection): Double module 12000x4000mm
MIN width: 1946mm

Options
electric motors
automatic control units, sensors and switches, remote controls
light and heating options
advertising prints
protective hood
crank handles in other RAL colours (plastic parts are always white)
other RAL colours
overlap rollers to cover double modules
manual front valance
cross arms
Technical information
Double modules are two awnings with joint roller tubes operated by a single motor. There is an 85 mm gap between the two canvases that can be covered by an overlap roller.
The awning with cross arms is used in cases where the width of the awning is less than the desired projection. The maximum projection of this awning is 3 950 mm.
Photogallery
Downloads

Riviera